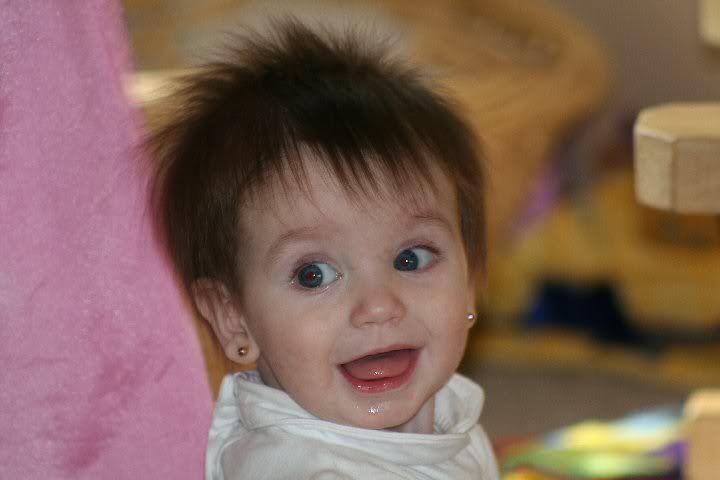 I just had to share that picture. How can you just not smile.
Had the inspection on the house we are selling last night. All went well. We have nothing to repair or fix. The buyers are doing a FHA loan so we were told that the FHA inspectors nitpick things. But they found this house is great shape. Thank God! Thier appraiser comes tomorrow between 8-9am. Closing WILL be April 7th in the morning.
On the house we are buying, this is getting to be a PITA. We have been waiting for 2 weeks for title work. Our surveyor will be there tomorrow. The realtor for the relo company is an idiot. My realtor called today for title work on the Chamberlain property. Idiot realtor sent my realtor the title work on the sellers selling to the relo company. So the paperwork is not ready. NICE. So my realtor has had a "Nice little chat" with the other realtor about getting her crap together. Our realtor told the other realtor that we were ready to close whenever they were. Well, the sellers are not able to get a moving van until 3/27. So guess when we are closing. 3/31. *SIGH* THANK GOD we push back out closing with our buyers until 4/7.
Gabe decided that he wanted a spiderman bedroom. I was not overly impressed by that. I am not a big fan of the spiderman colors or bedding. However sunday we decided that since we were shopping (ALL 6of us) that we would let the kids pick out their bedding. Gabe saw spiderman bedding and that was that. We purchased that bedding and all was right in the world. We informed the excited little boy that he had to wait until we move into our new home to use his new bedding.
Monday we went to Home Depot with Gramma and Grampa. That is when Gabe realized that Spiderman was not his dream bedroom. He saw...BUZZ LIGHTYEAR. Those damned Disney paint samples. Well that was that. He HAD to have Buzz Lightyear. So, no big deal. I will just get online and order his bedding. Yeah right. Guess what bedding has been discontinued? Yep you are right. Buzz. So, off to ebay I go. OMG! Those people are nuts. I did end up buying bedding on ebay but I will not disclose how much I spent. I will just suffice to say that *I* would qualify for being one of THOSE nuts. This is how Gabe want's his
room
decorated. I am not sure how I will end up painting it, but I can see some blue in my future.