There are just so many funny things that have happened the last week or 2. But when I sit down to blog about them, I cannot remember them. Then I will go to lie down in bed at night and I will thinking of them. I need to keep a note book next to my bed.
Aunt Becca came over last Thursday so that we could bake goodies for the
Ronald McDonald House
. We made 2 dozen cupcakes, 4 dozen cookies, and 4 dozen brownie bites. The children had a wonderful time helping and baking. We only had 1 little mishap and that would be the 2nd degree burn Hannah sustained to her left index finger. Because of the meds she is on she has a delayed reaction. So she kept her finger on a hot baking sheet longer than she should.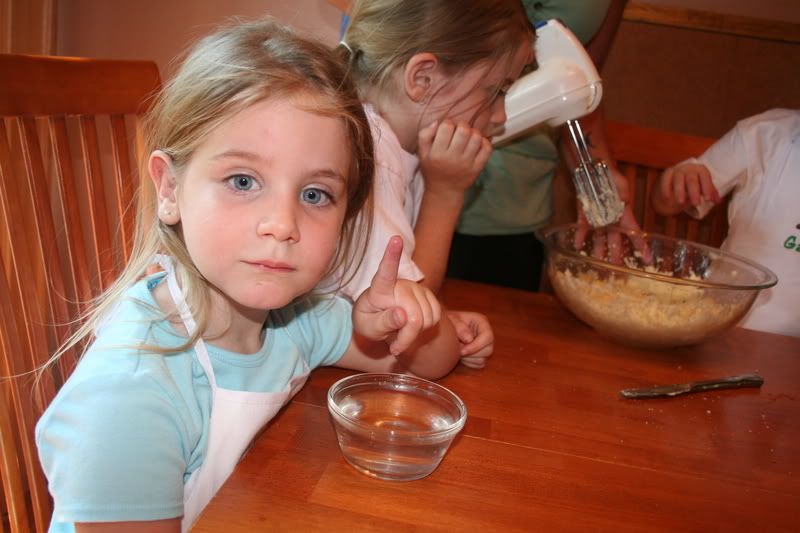 However Aunt Becca was discussing how your left hand makes an L and that his how you know that your left hand is actually your left hand. All of a sudden Gabe turns his right hand palm up and says, "Look Aunt Becca my right hand is now my left!". Then he roared. He thought he was hysterical. Becca and I did too so we also started laughing hysterically. LOL
Here
is a link for the rest of the Cookie Pictures.
Also, I will be walking a 5K for Comer Children's hospital. You can read about it
here
. We are hoping for Gabe to be able to participate by riding in the wagon or the wheelchair. Whichever will work.